Recently while creating new Facebook account i got this message You can't log in at the moment We'll get in touch with you shortly after we've reviewed it. You'll now be logged out of Facebook as a security precaution. This Message comes up as a new security update to Facebook.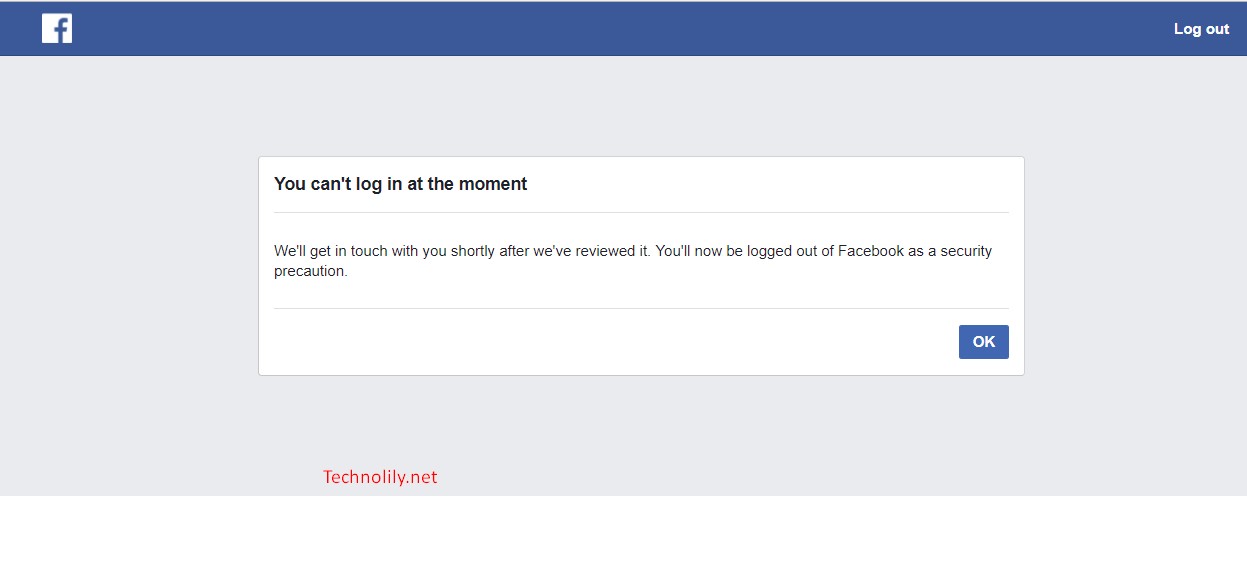 To strengthen security for the Facebook two billion users, they now will ask you for the photo upload captcha which is the new update for the Facebook in 2018. It is all due to that facebook wants to check if the account is created by bot or human.
Moreover the photo which you will upload will be checked if it is a unique photo or not. And it could takes time from 24 hours to 1 week.
The photo should be clearly shows your face to be prove that this photo is unique and belongs to you.
According to facebook security team on wednesday, the facebook social media is using this new kind of captcha a type of new captcha to identify whether or not the user is human and to differentiate between human user and a bot.
A screenshot also shared on Twitter read: "Please upload a photo of yourself that clearly shows your face. We'll check it and then permanently delete it from our servers."
Facebook has officially confirmed this new captcha update , saying the photo test is used to "help us catch suspicious activity at various points of interaction on the site, including creating an account, sending Friend requests, setting up ads payments, and creating or editing ads". which otherwise could be impossible to differentiate between bots and human user.
A Facebook also says that the new photo captcha system mean photo test is one among of several methods, which is both automated and manual, and is definitely only used to detect suspicious activity in Facebook account.
The whole process of photo test is automated, including identifying suspicious activity and checking the whole photo. To determine if the account is authentic and genuine, Facebook looks at whether the photo is unique, Facebook officials said.
Further, many users were logged out of their accounts while the photo was being verified.
A warning message said: "You Can't Log In Right Now. We'll get in touch with you after we've reviewed your photo. You'll now be logged out of Facebook as a security precaution."
After submitting photo to facebook it says thanks for sending your photo. we'll get in touch with you shortly after we've reviewed it. or thanks for sending your photo. we'll email you within 72 hours
All Facebook users who suspect that their account has been compromised or hacked and is used by another person then kindly you can go to Facebook.com/hacked and report it.
Also read: Fix Unable to capture screenshot prevented by security policy Facebook 2020